How To Calculate Building Costs Per Square Metre In Minutes Using BuildPartner
If you're building a house, or undertaking any construction project, you need to calculate accurate costs per square metre accurately. Let's face it, most of us have been in those situations where we've miscalculated a project and overspent. 
You've probably seen those enthusiastic first-time investors on Location, Location, Location or Homes Under the Hammer – those who eagerly reveal their unrealistic budgets and are forced to eat their words when revealing their actual spending.
While it's entertaining to watch (and laugh), it happens to the best of us… 
But with building pricing software, you can slash the risk of overspending and get accurate building costs per square metre in just a matter of minutes. Best of all? It costs you nothing to get started, and estimation software is not as technical as you think. 
Benefits Of Using Construction Estimation Software
We hate to break it to you, but if your preferred method of calculating building costs is punching a load of numbers into a spreadsheet (or jotting down on the back of a fag packet), you're missing out and it's costing you a small fortune.
Using a spreadsheet to work out building costs is the equivalent of core drilling a hole with a 12v combi drill. You wouldn't even dream of it. And whilst you might get there eventually, you wouldn't without a fair few expletive-laden rants.
Construction estimation software is like the diamond bit for quoting a project – the tool you need to get the job done properly. Here are the main benefits of using building estimating software:
Get a full itemised breakdown of cost options in a matter of minutes,

slashing the administration time

associated with quoting each project. 

Unlock

cost savings

by tweaking the specification to your specific needs. No need to overspend on inessential materials.

More

options

for customers to choose from with a comprehensive list of à la carte-style selections. Products and prices automatically pull through!

Greater

accuracy

and never let a single item go unaccounted for. Ever accidentally missed something off a quote? Nightmare. 

Transparency

for both the contractor and customer, meaning less chance of scope creep.
Five Simple Steps To Working Out Your Total Building Cost Per Square Metre
In five simple steps, we're going to learn how to calculate the costs of our construction project using BuildPartner. If you haven't yet signed up for a free trial, try it out free today by clicking here. No credit card details required!
1. Enter Your Project Location
Start by inserting the address of the construction site, which determines the market data rates. Then click "Create Cost Plan".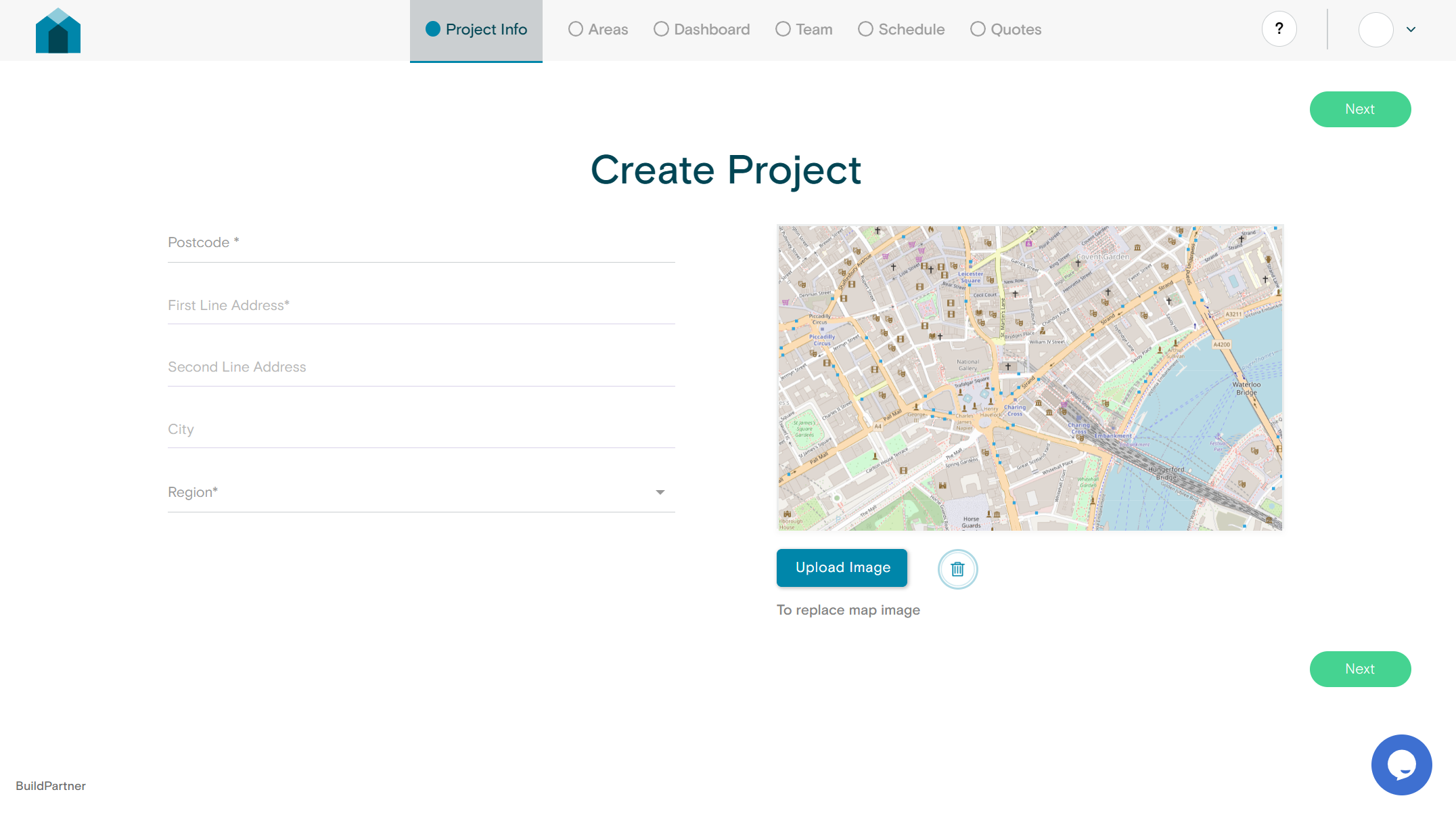 2. Choose The Specification Of Your Build Project
The next step is deciding what material, or rather specification, we want for the construction project. 
Basic: basic finishes, e.g., Leyland, Everest, Wickes.
Standard: standard finishes, e.g., Dulux, Hamilton, Slim Line.
High: high-spec finishes, e.g., Farrow & Ball, Fine Line, Siemens.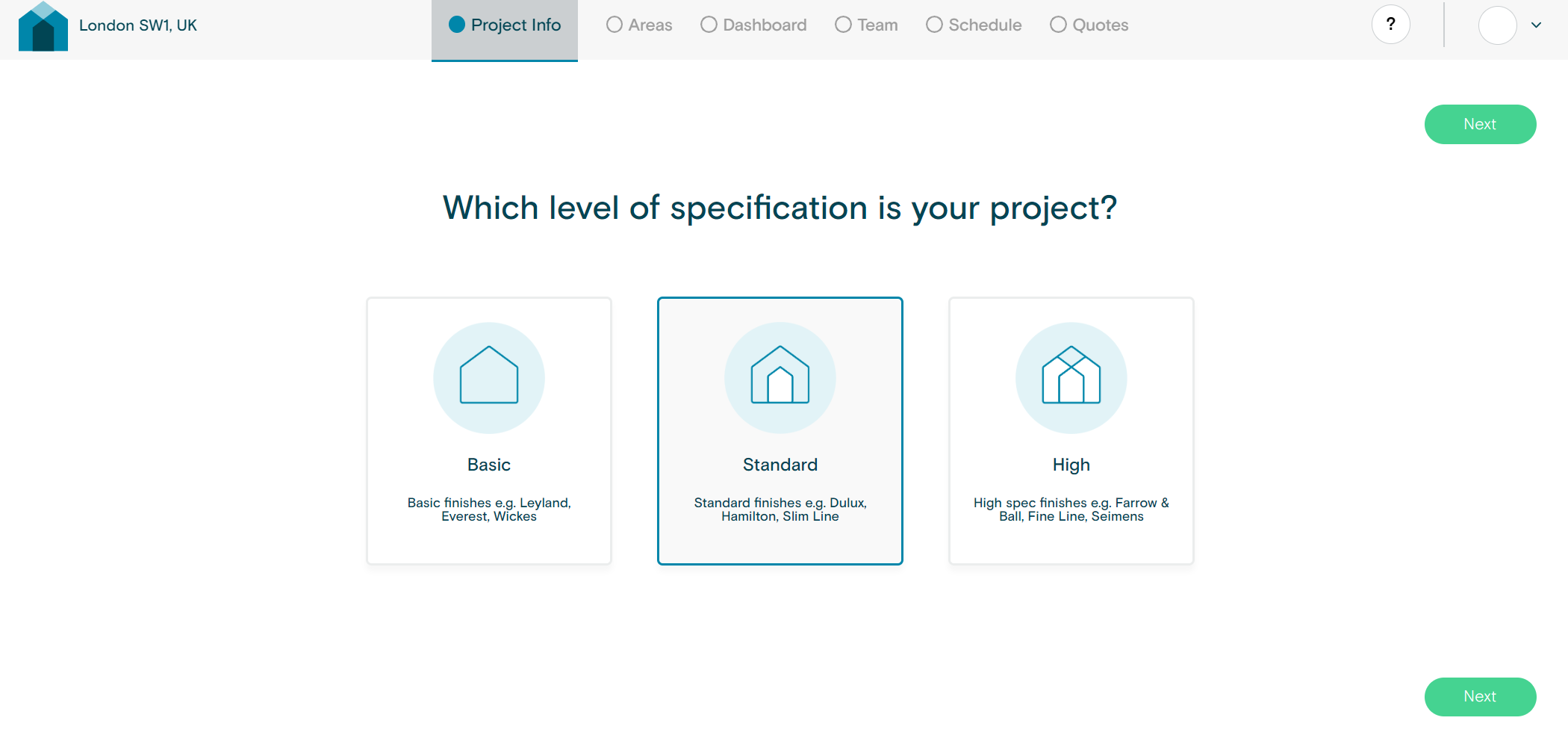 Your choice mainly affects finishings. Remember, you can always change individual elements further down the line in the drop-down style selections of the itemised overview.
3. Choosing The Scope Of Your Build Project
Next, we choose the scope of the project. You can select from one or more of the following options.
Build new: building a new structure and fitting out.
Extend: Adding on to existing structure and fitting out.
Remodel: Changing the layout of a structure or room and fitting out.
Refurbish: Replacing the finishes and fittings in their existing locations.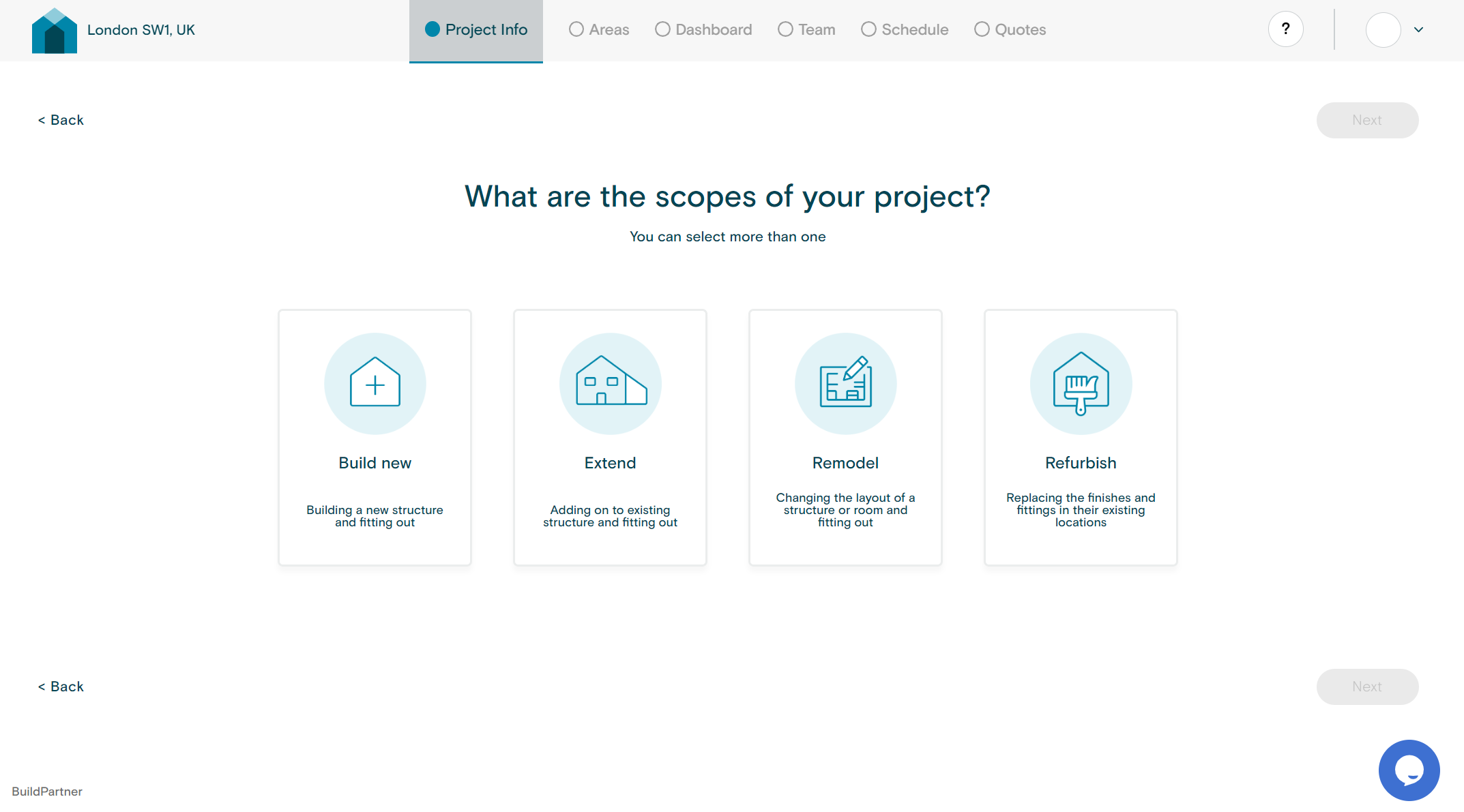 your first time using BuildPartner construction estimation software, we recommend you select one option to keep things simple.
Then we select our "shells", or the structures that will be included in the construction project.
You can select from over 25 options:
Ground floor; pitched roof; stubbed attic; crown roof; middle floor; top floor; brick porch; dormer window; flat roof; garden studio; external storage; ground floor bay window; garage; car port; pillar supported balcony; render porch; timber porch; two-storey house (2, 3, & 4 bed); basement; pricing clarifications; open porch; hip-to-ground-floor gable extension; bungalow.
Select all those that apply and their quantities and click "Next".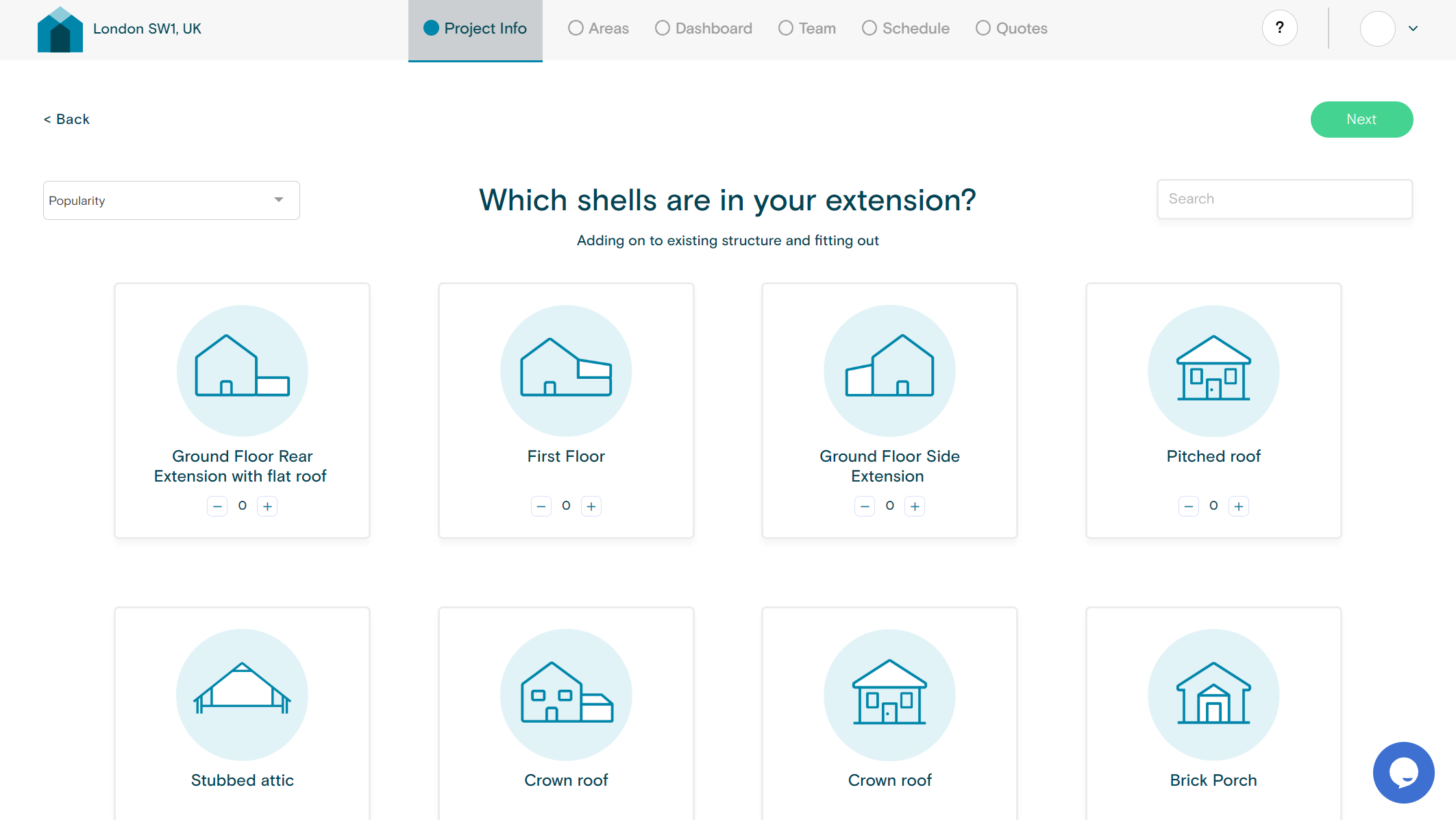 On the next page, you can choose which rooms you're refurbishing. There are over 45 options to choose from, including kitchen, bathroom, wet room, gym, pantry, and lounge.
You can also use the search bar for easy navigation.
Select all that apply and click "Next". After clicking, our massive database will crawl millions of cost data points for labour and materials before compiling an accurate, itemised quote.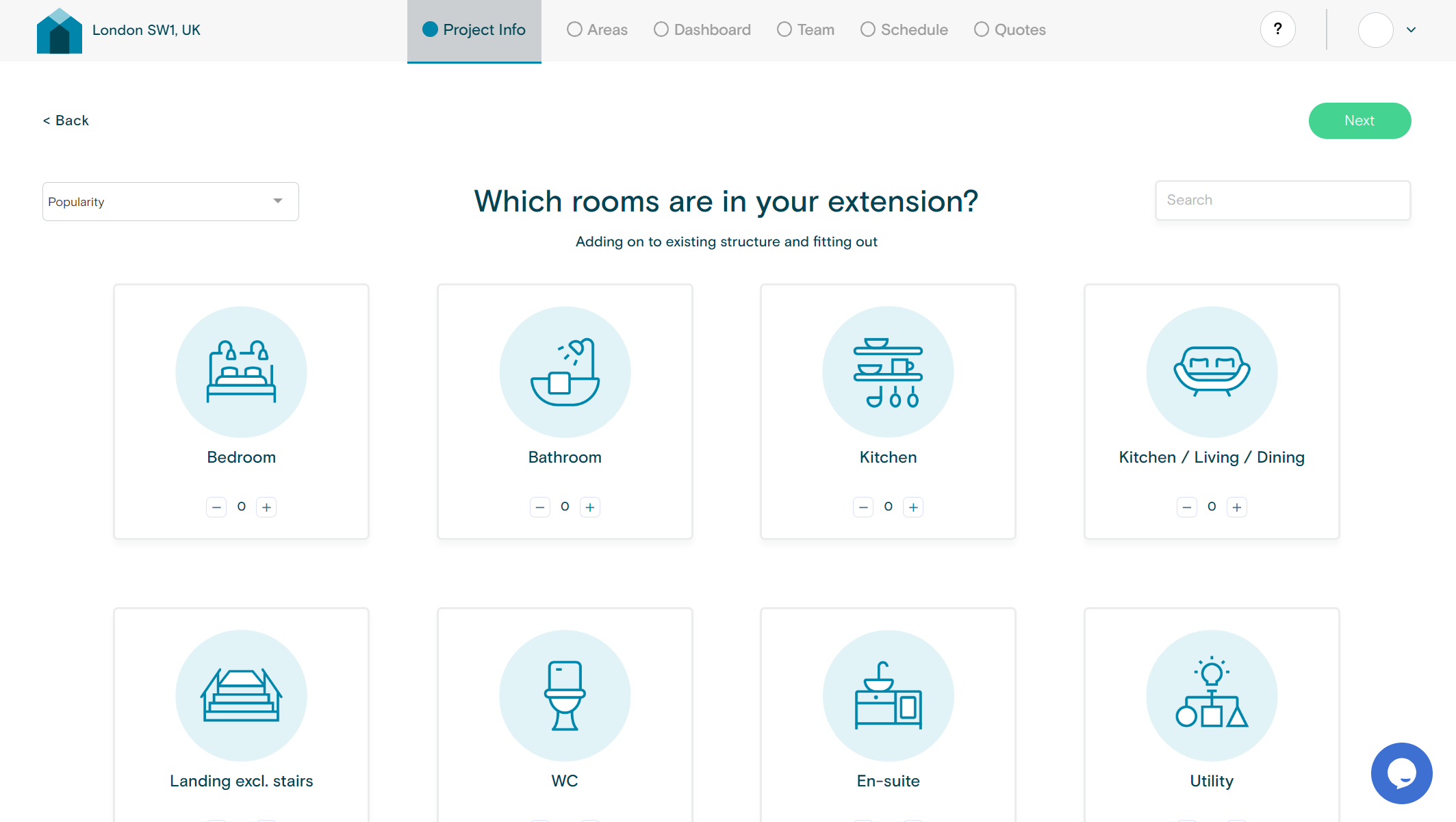 6. Calculating Cost Per Sq Metre
Once your construction project costs have been calculated, you'll need to enter your floor plans on the "Areas" tab. Our system autosaves any changes, but you can also click "Save and Exit".
Then head over to the "Schedule" tab to amend the itemised overview of anything and everything from Fixtures and Fittings, Drainage and Pipework, and Internal Doors and Frames. 
You might, for example, decide that you need a 16-yard skip instead of the 6-yard skip that's recommended.
Once your quotation contains all the particulars required for your construction project, simply navigate to the "Cost Per Sq Metre" section to see your costs.
Top Tip! In the "Quotes" tab, you can see three options for quotes based on different specifications: Low Benchmark, Mid Benchmark, and High Benchmark. 
These serve as a useful price comparison that you can discuss with customers and amend accordingly by clicking the "Go to individual quoter" icon.
Work Out The Cost Of Building A House – Demo
Here's a short video demonstration of how to use BuildPartner construction estimation software.
No More Back-Of-The-Fag-Packet Calculations
If you can operate an iPhone (or Android), you can master BuildPartner construction estimation software in no time. Get ahead of your competition while the technology is in its infancy. 
Ditch the spreadsheets and try it out free today by clicking here. No credit card details required!
Construction Costs – FAQs
What are the average building costs per sq metre in 2023?
We've covered this in greater detail in another article, but here is a summary of the average building cost per m2 in the UK (2023):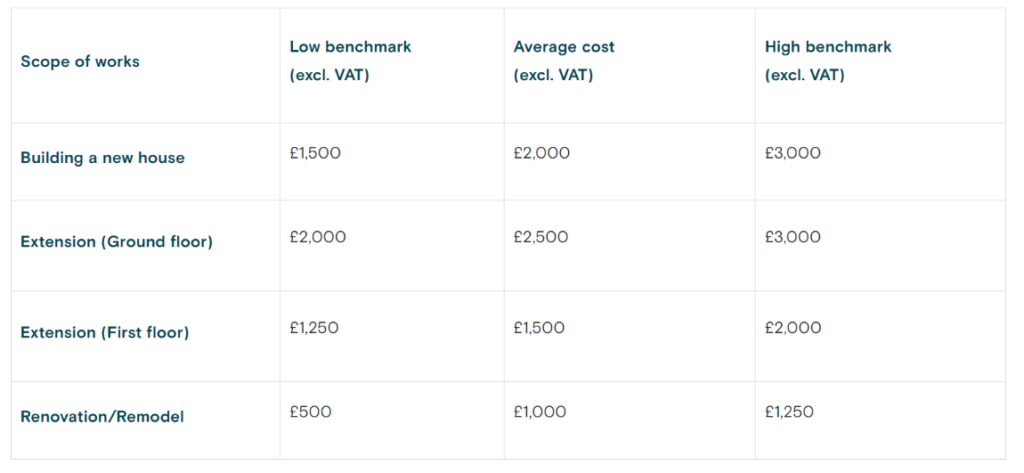 What factors affect total house build cost?
When starting, it's a good idea to familiarise yourself with the entire scope of a construction project to avoid any hidden nasties. While there are too many to list here, we've selected the top five which have the biggest impact:
Location.

Factors such as local labour rates, availability of construction materials, transportation costs, and local building regulations vary from one place to another.

Size and scope.

The size and complexity of the building project directly affect the cost. Larger structures generally require more materials, labour, and time, which ultimately increases the overall cost.

Design and architecture.

The architectural design and engineering requirements influence the total cost. Bespoke designs require specialised construction techniques and materials.

Materials.

High-quality and specialised materials come at a higher cost. Additionally, the availability of certain materials in the local market also affects their prices.
Labour costs. Labour rates vary based on the location, the skills required, market conditions (supply and demand), and even the time of the year (e.g., peak construction seasons result in higher labour costs).
How can I save money when building a new home?
When it comes to building work, saving money doesn't mean you have to compromise on your fixtures and fittings or roll up your sleeves and don a hi-vis vest. You've got to work smart. Here are our top picks for saving money on a new-build home:
Budget wisely.

 Whether you're a commercial contractor or undertaking a self-build project, budgeting software will help you plan and organise your finances. Ditch the spreadsheets.

Negotiate with suppliers.

 Go out of your comfort zone, and don't be afraid to negotiate prices with suppliers. It's common practice for some to artificially inflate their prices in anticipation of this. If you don't ask, you don't get.

Obtain multiple bids.

 

Even though it might seem like an unnecessary hassle, and even if you happen to like the first contractor, you should get multiple quotes from different contractors and suppliers. Compare bids carefully, considering both cost and quality.