Simple software which automates everyday tasks

Save Time
The database of tasks significantly reduces the time spent creating schedules and quotes.

Save Money
Like for like comparison and a database of thousands of prices ensures value for money.

Save Stress
Secure project tracking and version control means disputes are a thing of the past
For Architects, Builders and Surveyors.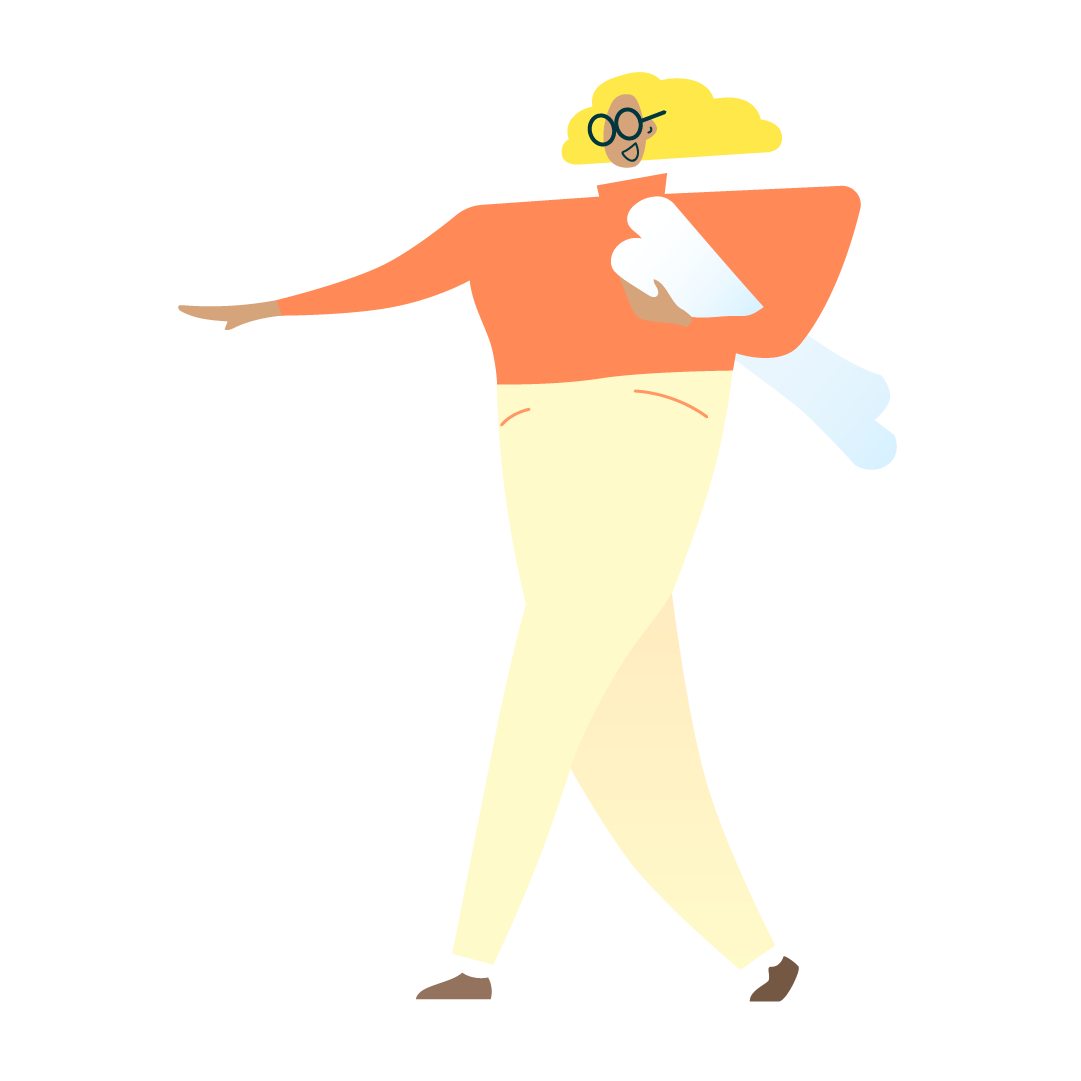 Architects
Track changing prices as you design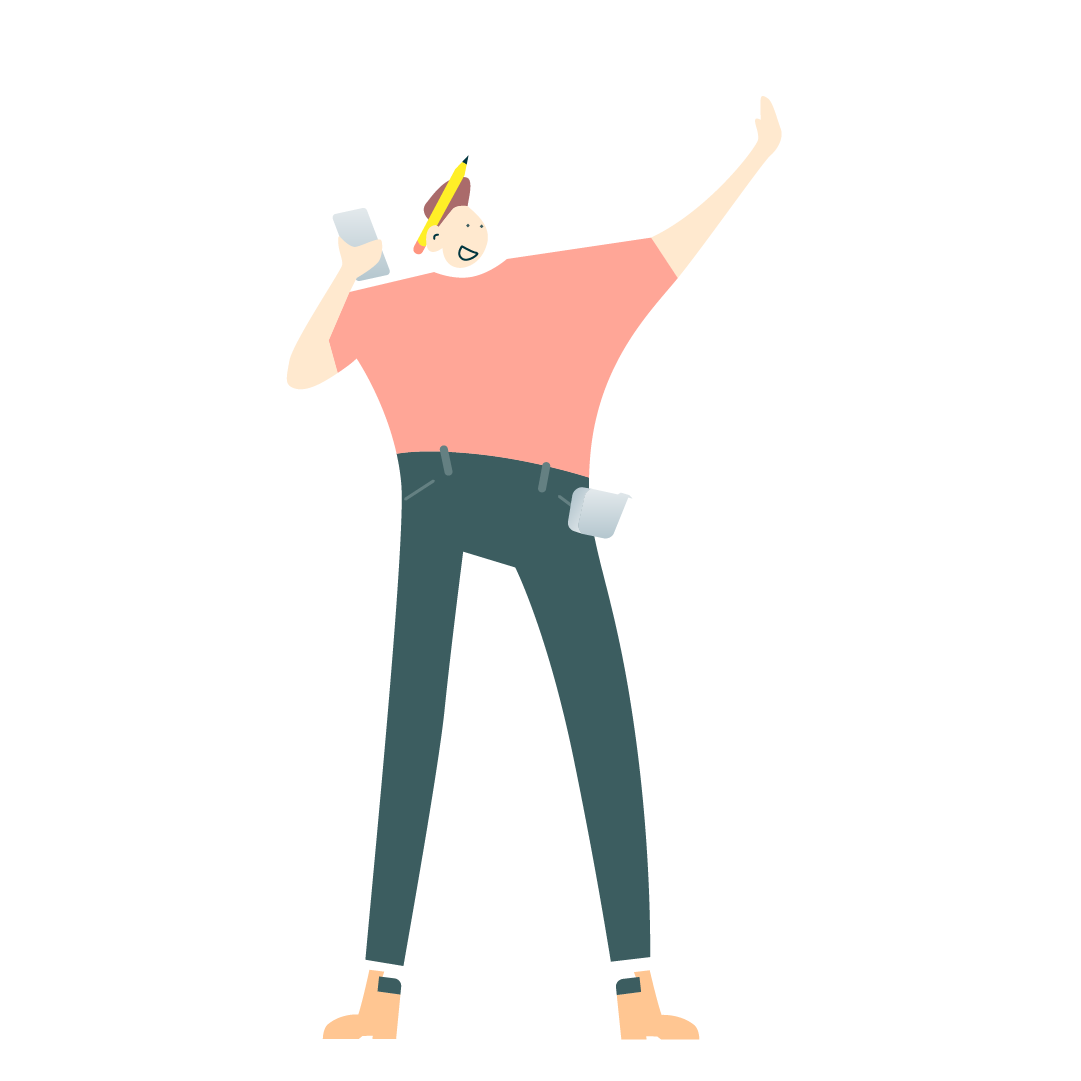 Builders
Create quotes in a fraction of the usual time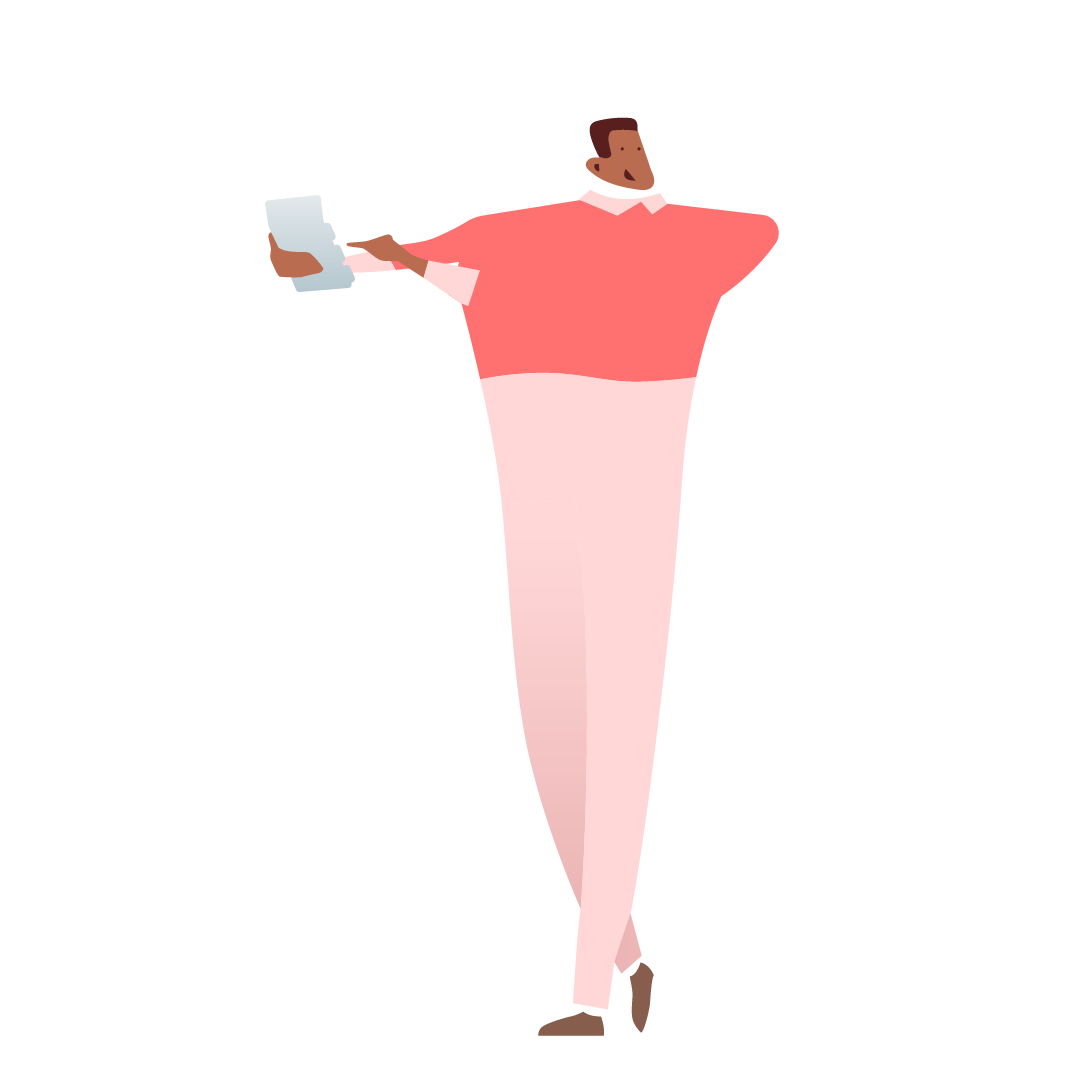 Surveyors
Create detailed schedules and manage tenders with ease
Recommended by you
"Wow. this is brilliant, I was really hoping it would be something like this… I can see it completely changing the way we work. Especially when the client doesn't have a clue about budget and we have to try and help them figure it out."
"This is immensely useful, amazing, that's something that would have taken me an eternity to do."
"It's revolutionising the way building projects are being priced."
"This is great, the templates allow me to knock out schedules in about 10 minutes and they're much more professional than the ones I used to do."
"I love the benchmark prices, it's so useful to be able to give them to the clients and discuss the implications of different specifications and options."
"Very impressed how quick the tender returns were, that caught me by surprise actually."
"I have to say, it's very compelling, very clever, I like it."
"It's a very powerful tool, excellent for giving early-stage information on price."
"This is excellent, and it will be great for small practices, particularly the younger ones who are struggling to make money at the moment, and it's a massively valuable service for contractors, they spend so much time doing quotes and still get them wrong."
"You're taking away all the painful bits and leaving us the fun bits."
"Thanks for all your help, it's a fantastic tool."
"BuildPartner has completely transformed how we budget projects, right from the start of the project. It allows us to design confidently, with accurate prices, so we no longer have to wait until a builder is on board. It's a complete game-changer."
"Having got my head around it on the Eden project I can see how this is going to be very useful."
"I like how it helps everyone to work together to unlock value."
"I don't know how you'd do a project without it."
"It was a lot better than I expected it to be if I'm honest."
"This is pretty close to my estimate, but it has all this extra detail, that's great!"
"Many thanks for taking the time to introduce us to BuildPartner the other day! We do think it's a great piece of software and can definitely see where it adds value."
"It struck a chord as i'm having a real problem with prices, I can't wait weeks for builders to get back to me, so it's great being able to create a feasibility study in minutes and then take it all the way through to tender."
"Having live costing data and such an interactive tool at our fingertips to inform the design development stage has been empowering to both us as architects and to our clients. BuildPartner has contributed to freeing up and inform the iterative nature of design development especially on residential projects with modest and finite budgets."
"It's always a bit of a worry when it comes to the tendering phase, I'm always wildly inconsistent with the amount of information I provide and customers can be so disappointed when the prices come back. This is so much more scientific and removes a lot of anxiety from the equation. It's an incredible system and product you've got here."
"This is something I often struggle with, I can do FF and E but it's very useful to be able to give an accurate indication of build cost as well."
"It's so helpful to be able to give prices for different options, even if it's something as simple as whether to have underfloor heating or radiators, we can now give concrete prices immediately."
"I think the idea of the platform is wicked! I've used your platform now on every project to discuss what must be done with builders."
"This is a really neat tool, I'm very impressed. It's clever, really clever."
"Where was this product when we were having to stay up all night pricing tenders!"
"Hi guys, I have just set up the direct debit for our subscription. It has been great to use over the past month, so it was an easy decision for us!"
"I love the way it spoon feeds you the information you need, it's a great means of sense checking and it does look, dare I say it, quite user friendly"
"I love your platform, I think it's fantastic. It's so useful to have cost information up front and then we often have to revise the cost analysis which this makes very easy"
"It's handy on every project really. Every client's first question is how much? And their second qustion is how much now?"
"I find it very useful checking the assumptions on prime cost sums which we've always found it difficult to gauge. Especially for the high spec manufacturers who don't often advertise their prices."
"I have been waiting for a quick and easy non-numerical architect friendly cost plan programme like this for years to help frame initial/early-stage contact with domestic clients. "
"I'm quite excited about this product, we were trying to build something similar ourselves. Quotations are a nightmare and they take up so much time. We want to make it quick but still detailed which I think you're doing very well. I've tested it against my projects and I'd say we're within 5%. "
"This is super useful, budgets always seem to creep up and this will help me control things."
"The way you create the initial cost plan is super intuitive. I think this software is really amazing."
"It's so good, pricing is not a problem any more."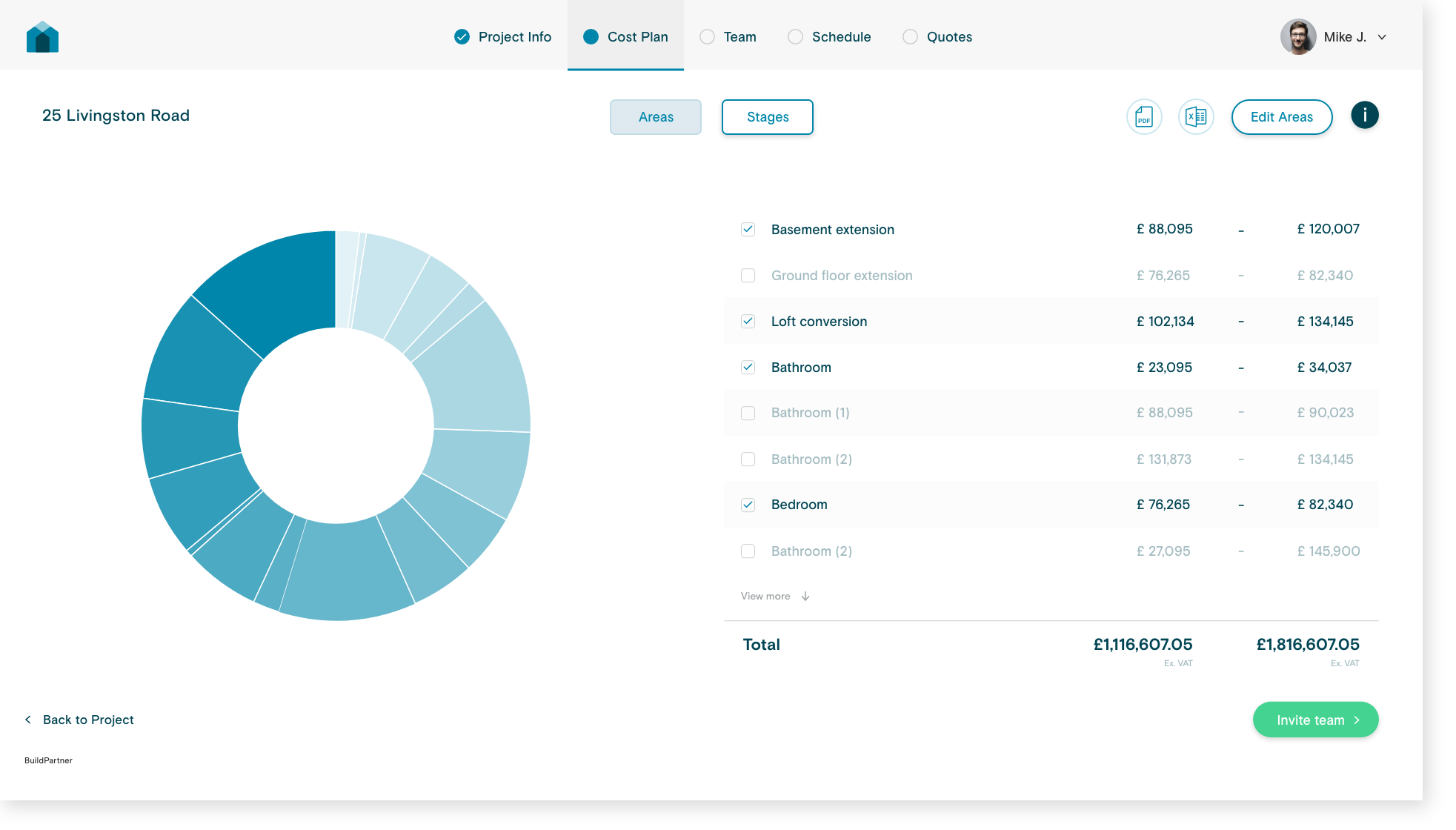 Create cost plan
Select from templates and enter dimensions to create a quick, accurate cost plan.
Create schedule
Select from thousands of tasks and materials to create an accurate schedule of works.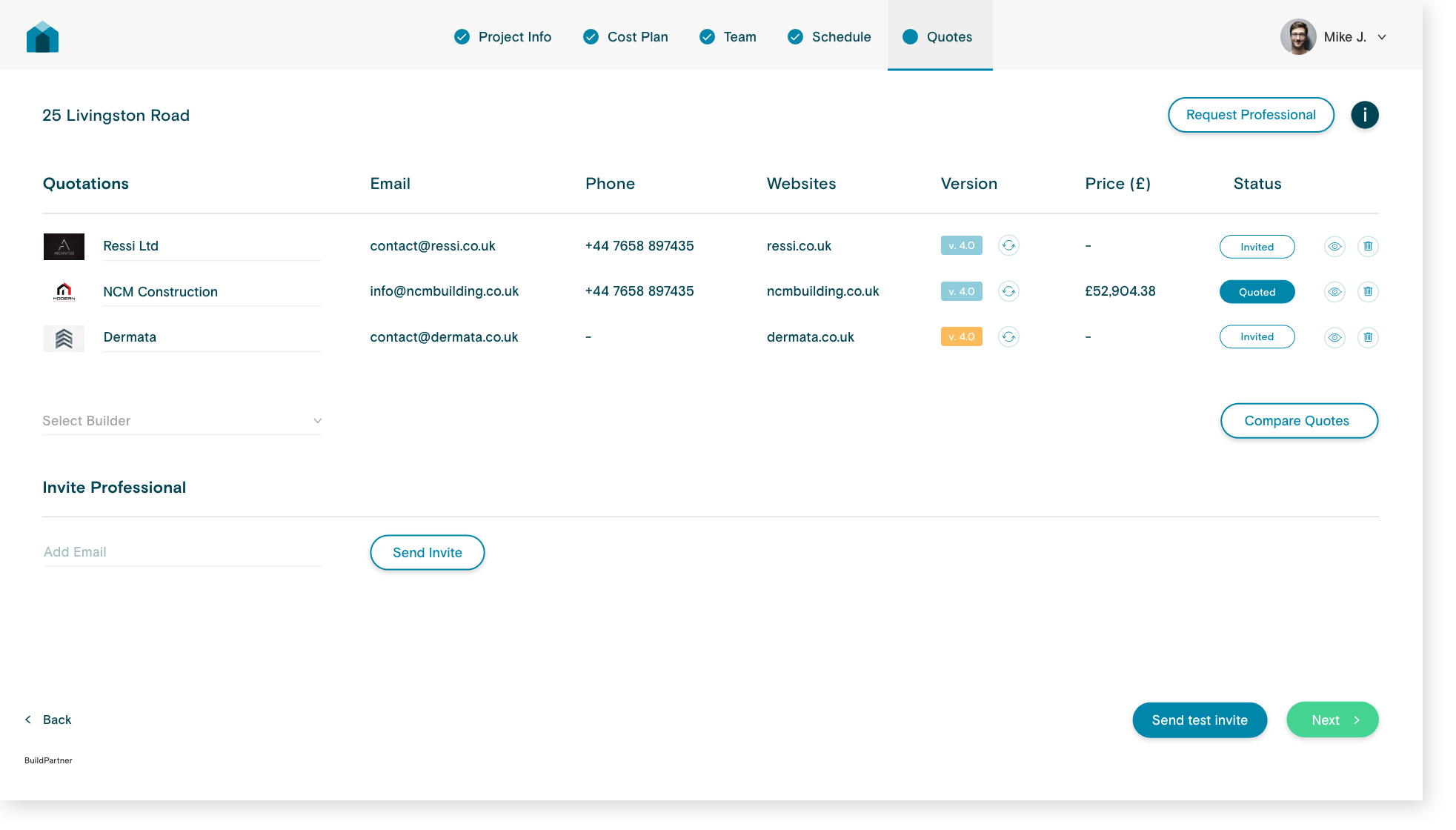 Getting Stronger with Every Project






And doesn't cost the earth